Hurricane Shutters Estero
Accordion, Roll Down, Clear Panels, Lanai, Screens & More
Are you Looking for Hurricane Shutters in Estero?
If you are considering hurricane shutters in Estero, you are making a wise choice. In fact, hurricanes are expected to increase in frequency and severity in the years to come. This makes protecting you and your property a necessity. Without shutters, hurricane force winds can enter your home or business and destroy it from the inside out. This includes ripping off your roof. For these reasons, hurricane shutters are a must! Not only will they protect you in the face of a storm, but they will also give you peace of mind before the storm arrives. That being said, if you are looking for hurricane shutters, contact Storm Guard Solutions. Established in 2004, our team has decades of experience providing quality hurricane protection. Not only are our shutters of the highest quality, but they are also custom built for your home or business.
Do you have Aluminum Panels? Are you Looking for an Easier Shutter System?
Homes in Estero built after 2001 are required to have hurricane shutters installed upon construction. However, many times, the shutters installed are aluminum panels. While these shutters will protect you during a storm, they are difficult to install. In fact, for some individuals, they are too heavy and difficult to hang. As a result, they typically take longer to install and require more than one person. If you currently have aluminum panels and are looking for an alternative, give us a call. With over two decades of experience, we will find the perfect solution to fit your functional, aesthetic, and budgetary needs.
Not only will our Hurricane Shutters Protect you in the Face of a Storm in Estero, but they will also Give you Peace of Mind Before the Storm Arrives
Benefits of Hurricane Shutters
Safety During a Storm
Hurricane shutters will protect your home or business during a storm. Not only will shutters prevent glass from breaking, but they will also prevent objects from coming into your property. Additionally, all of our shutters meet all the standards of ASTM E 1866, E 1996, International Residential Code as well as State building codes. Moreover, our shutters are tested to withstand a Category 5 hurricane.
Provides an Extra Layer of Security
In addition to providing safety, hurricane shutters will also help protect your property from intruders. Whether you are a part-time resident, or you are evacuating during a storm, shutters will help protect your home when you are gone. By and large, our shutters offer security protection. In other words, most shutters have locking capability that will keep them in the closed position.
Increased Resale Values
You may want to sell your home, condo, or coach home at some point. Not only will hurricane shutters help keep you safe during a storm, but they will also increase the resale value of your property. As mentioned earlier, hurricanes and tropical storms are a real threat. As such, prospective buyers pay attention to the quality and style of hurricane protection when looking at property. While hurricane shutters may not have a massive impact of the selling price of your home, they will make it more attractive to buyers.
Quick Deployment
Many of our hurricane shutter systems are quick and easy to deploy. For example, motorized roll down shutters are easy and it only take minutes to close and open them. The same can be said about accordion shutters.
Types of Hurricane Shutters
Do you Need Hurricane Shutters for your Lanai Area?
Most of us understand that it is critical to protect both the doors and windows of your home. But what about your lanai? By and large, lanais in Florida are an extension of your living space. As such, it is common to find outdoor kitchens, TV's, furnishings, and more. Consequently, protecting the lanai area has become a necessity. If you are interested in additional information about our lanai shutters, give us a call. Otherwise, click here for additional information.
Living in Estero it's not a Question of IF we will be Subjected to Intense Storms or Hurricanes. In Fact, It's a Question of WHEN.
Get in Touch for Hurricane Shutters in Estero
If you are looking for affordable, high quality hurricane shutters in Estero, contact Storm Guard Solutions. We have provided hurricane protection in Collier and Lee Counties for over 2 generations. As a result, we have installed thousands of shutter systems. In other words, we know how to properly enclose any home or business of any size. So, call us today for a free estimate. Otherwise, you can contact us online at the top of the page.
Storm Guard Solutions installed our hurricane shutters. They are an honest, reliable and trustworthy company. The owner will make sure the job is done right!! We would definitely recommended them to anyone who plans on installing shutters.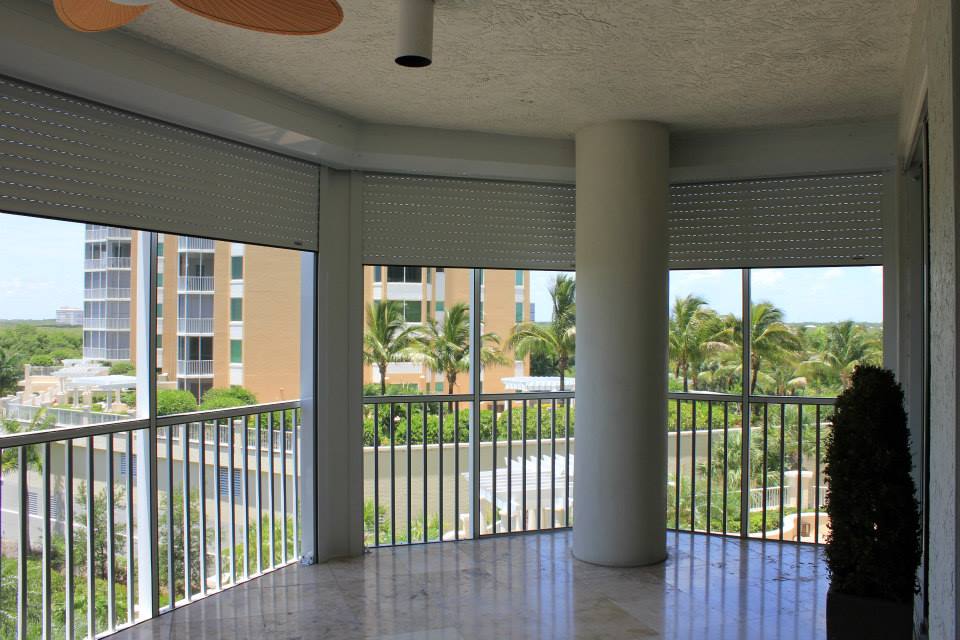 Storm Guard Solutions Proudly Services
Naples, North Naples, Marco Island, Bonita Springs, Golden Gate, Immokalee, Ave Maria, Estero, Corkscrew Shores,