Lanai Hurricane Shutters Marco Island
Discover the Convenience and Protection of Lanai Shutters
If you have a large lanai with a lot of outdoor furnishings, bringing everything inside your home when a hurricane is approaching can be a nuisance. At Storm Guard Solutions, we provide lanai shutters in Marco Island and Southwest Florida, to give homeowners a simple and convenient solution for this!  Our lanai shutters are a strong, durable option for homeowners to protect their outdoor living space and belongings during a hurricane. The best part is that all your outdoor furniture and belongings can stay outside while staying safe.  In addition, if you have any immovable belongings such as an outdoor kitchen or mounted television, they will all stay protected from the heavy rainfall, harsh winds and flying debris. Contact our team today to learn more about lanai hurricane shutters.
Lanai Hurricane Shutter Repair Service
Lanai hurricane shutters are important in helping protect against strong winds and flying debris. However, if your lanai shutters are not working properly, they will not do their job. Ensuring that your shutters are functioning correctly is a key aspect of hurricane preparedness. Along with our lanai hurricane shutter installation services, we also repair shutters. In fact, we have been in the business of repairing and installing hurricane shutters since 2004. Since that time, we have repaired thousands of shutter systems on Marco Island. If you are not sure if your shutters are working properly, give us a call and member from our team will gladly help you.
Benefits of Having Hurricane Shutters Around your Lanai
Safety During a Storm
Lanai shutters will protect your lanai area during a storm. Which means they will also protect that same area inside your home. Not only will lanai shutters prevent sliding glass doors from breaking, but they will also prevent objects from coming into your property. Additionally, all of our lanai shutters meet all the standards of ASTM E 1866, E 1996, International Residential Code as well as State building codes. Our shutters are tested to withstand a Category 5 hurricane.
Provides an Extra Layer of Security
In addition to providing safety, lanai hurricane shutters will also help protect your property from intruders. Whether you are a part-time resident, or you are evacuating during a storm, lanai shutters will help protect your home when you are gone. Our shutters offer security protection. Most shutters have locking capability that will keep them in the closed position.
Increased Resale Values
You may want to sell your home, condo, or coach home at some point. Not only will lanai shutters help keep you safe during a storm, but they will also increase the resale value of your property. Prospective buyers pay attention to the quality and style of hurricane protection when looking at property. While lanai shutters may not have a massive impact of the selling price of your home, they will make it more attractive to buyers.
You Can Leave your Furniture on the Lanai
Similar to the hurricane shutters that protect your windows, they can also protect your lanai. In fact, the shutters enclose your lanai so you won't need to drag your outdoor furniture inside.
Types of Lanai Hurricane Shutters
Types of Lanai Hurricane Shutters
Get in Touch for Lanai Hurricane Shutters
If you are looking for affordable, high quality lanai hurricane shutters, contact Storm Guard Solutions. We have provided hurricane protection in Collier and Lee Counties for over 2 generations. As a result, we have installed thousands of shutter systems specifically for lanais. We know how to properly enclose lanais. Contact  us today for a free estimate.
Storm Guard Solutions installed our hurricane shutters. They are an honest, reliable and trustworthy company. The owner will make sure the job is done right!! We would definitely recommended them to anyone who plans on installing shutters.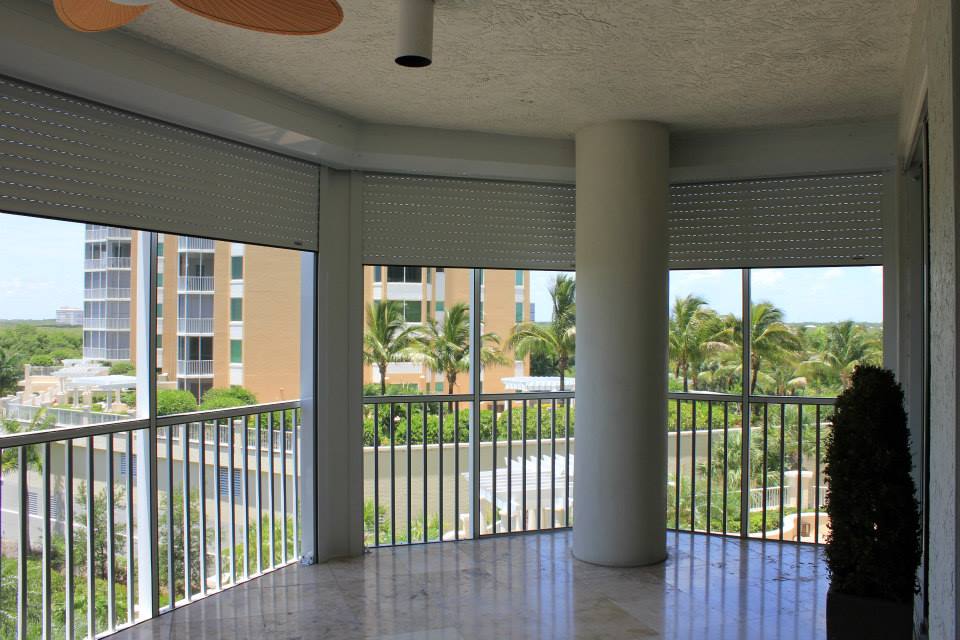 Storm Guard Solutions Proudly Services
Naples, North Naples, Marco Island, Bonita Springs, Golden Gate, Immokalee, Ave Maria, Estero, Corkscrew Shores