Roll Down Hurricane Shutters Estero
Protect your Property and Family in Estero with Roll Down Hurricane Shutters
If you are looking for affordable, high quality roll down hurricane shutters in Estero, contact Storm Guard Solutions. Locally owned and operated since 2004, we have protected thousands of properties with our roll down hurricane shutters. Not only will our roll down shutters protect your property during a hurricane, but they are also custom built to fit the openings of your home or business. Our easy to deploy and affordable shutters are built to withstand a Category 5 hurricane. If you are looking for the best value on roll down shutters in Estero, contact us today!
Affordable Roll Down Shutter Repair Services
Along with roll down shutter installation, we also offer roll down shutter repair services. Hurricanes and tropical storms are a real threat in Southwest Florida. As a matter of fact, Southwest Florida is one of the most hurricane prone areas in the state. From strong winds to flying debris, hurricane shutters provide a shield between you and the dangerous weather. However, your roll down hurricane shutters will not protect you if they are not working properly. In the event that your roll down shutters are not functioning properly, contact the repair team at Storm Guard Solutions. We can repair any make or model of roll down hurricane shutter system. In fact, we have the parts and an experienced team to complete your repair quickly and affordably.
Benefits of Roll Down Hurricane Shutters
Provides an Extra Layer of Security
In addition to providing safety, our roll down hurricane shutters will also help protect your property from intruders. Whether you are a part-time resident, or you are evacuating during a storm, shutters will help protect your home when you are gone. Our shutters offer security protection. Most shutters have locking capabilities that will keep them in the closed position.
Increased Resale Values
You may want to sell your home, condo, or coach home at some point. Not only will roll down hurricane shutters help keep you safe during a storm, but they will also increase the resale value of your property. As mentioned earlier, hurricanes and tropical storms are a real threat. As such, prospective buyers pay attention to the quality and style of hurricane protection when looking at property. While hurricane shutters may not have a massive impact of the selling price of your home, they will make it more attractive to buyers.
Safety During a Storm
Our roll down hurricane shutters will protect your home or business during a storm. Not only will shutters prevent glass from breaking, but they will also prevent objects from coming into your property. Additionally, all of our shutters meet all the standards of ASTM E 1866, E 1996, International Residential Code as well as State building codes. Our shutters are tested to withstand a Category 5 hurricane.
Minimal Maintenance
One of the many benefits of roll down shutters includes the fact that they are easy to clean and maintain. In fact, all you need to do is periodically clean the tracks and wash the shutters with a mild detergent and water. Additionally, open and close the shutters twice a year, and visually inspect them for any problems.
Quick Deployment
Another advantage of roll down shutters is that they are quick and easy to deploy. They can be motorized or manually operated. In either case, deploying them is simple.
What can I do to Ensure my Roll Down Shutters Continue to Work Properly?
It is important to have your roll down shutters checked annually to ensure they are in working order, even if they did not get used. From broken motors to broken slats, problems occur. If issues are uncovered, they need to be repaired before the next storm is on its way. While minimal maintenance is required, there are additional steps you can take to ensure your shutters stay in tip top shape, including:
Keep the tracks clean. Remove leaves and debris that can accumulate in the track
Visually inspect them a couple of times a year
Clean the shutters using a mild detergent and water.
Every 6 months open and close the shutters
Are you Looking for Roll Down Shutters for your Lanai in Estero?
Along with protecting the doors and windows of your home, we also offer protection for lanais. Most of us understand that it is critical to protect both doors and windows, but what about your lanai? By and large, lanais in Estero are an extension of your living space. As such, it is common to find outdoor kitchens, TVs, furnishings, and more. Consequently, protecting the lanai area has become a necessity. Learn more here>
Get in Touch for Roll Down Shutters
If you are looking for affordable, high-quality roll down hurricane shutters, contact Storm Guard Solutions. We have provided hurricane protection in Collier and Lee Counties for over 2 generations. As a result, we have installed thousands of roll down shutter systems. We know how to properly enclose any home or business of any size. So, contact us today for a free estimate. Otherwise, you can contact us online at the top of the page.
If you are looking for a reliable, honest, and experienced company to protect your home from dangerous storms this hurricane season, contact Tony at Storm Guard Solutions LLC- 571-3120.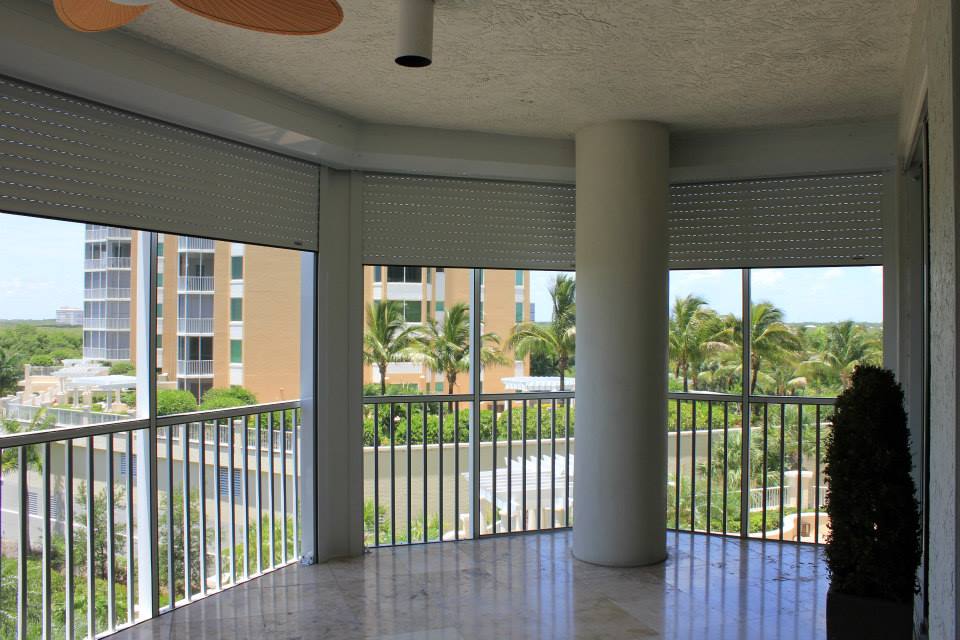 Storm Guard Solutions Proudly Services
Naples, North Naples, Marco Island, Bonita Springs, Golden Gate, Immokalee, Ave Maria, Estero, Corkscrew Shores