Aluminum Roll Down Shutters Ava Maria
Storm Guard Solutions offers the security of Roll Down Hurricane Shutters for your home or commercial property. Your home or business is your most valuable asset. Living in Ava Maria, it's not a question of IF we will be subjected to intense storms or hurricanes, it's more a question of WHEN.  If you are looking to invest in aluminum roll down shutters in Ava Maria to protect your home or business, call the professionals at Storm Guard Solutions.  We are here to serve you and provide quality accordion shutters so that your home or business is ready to protect you, your family and your belongings in the event of a hurricane or tropical storm. Storm Guard Solutions is a Naples based, family owned and operated company that has provided leading edge hurricane protection and service since 2004.
Aluminum Roll Down Shutters are custom built by the experts at Storm Guard Solutions and come in a variety of colors to match your home or business. Our powder coated aluminum shutters or those built with various fabrics have been Large Missile Impact and Wind Tunnel tested to the highest Miami Dade protocols. There is not a better solution for protecting your home, property and family than a roll down shutter system from Storm Guard Solutions.
Roll Down Shutters perform many functions. First and foremost is their ability to prevent flying debris in high wind scenarios from breaching the home's defenses. If that occurs and water and wind are allowed entry the roof may also be blown off leaving the property utterly devastated.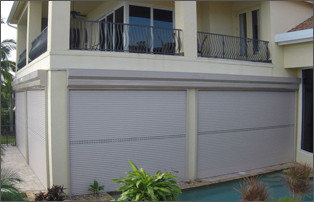 Features of Roll Down Shutters
• Our unique shutter designs operate much quieter than most conventional rolling shutters. This is due to a distinctive slat profile design which nests on to itself in a very uniform and compact valance. This allows for the curtain to be housed in the smallest most inconspicuous shutter housing possible
• The use of End Retention slats eliminates the need for storm bars and allows for larger spans. Our shutters meet all the standards of ASTM E 1866, E 1996, International Residential Code as well as State building codes and are tested to withstand a Category 5 hurricane
• While certainly protecting your home or property from flying debris, winds and water, roll down shutters offer security to your home and its contents when you are away
• Our shutters can be installed with either motorized or manually operated hand crank systems. Size and weight limits do apply and our technicians can instruct you on the best solution for your property. Remote controls are also available for convenience which eliminates additional wall switches. With a remote-controlled system, you can operate your shutter system from anywhere in your home
Our Roll Down Shutters are Strong, Simple and Affordable!!
Storm Guard Solutions Proudly Services
Naples, North Naples, Marco Island, Bonita Springs, Golden Gate, Immokalee, Ava Maria, Corkscrew Shores