Hurricane Shutter Repair Estero
Don't wait until the last minute for Hurricane Shutter Repair in Estero!
Do you Already have Hurricane Shutters in Estero?  When was the Last Time you Had Them Serviced? Repaired? If you are not sure, do not wait until the next storm is days away to check your hurricane shutters, contact Storm Guard Solutions for hurricane shutter maintenance and repair services. It is extremely important to have your shutters serviced regularly and repaired when necessary. From locks not engaging and motors malfunctioning to debris in the tracks, regular exposure to the elements and wear and tear will prevent them from closing properly. When you need to close your shutters, the last thing you want is a problem. At Storm Guard Solutions we can repair any hurricane shutter make or model, including roll down, accordion, motorized, and more.  With over 15 years of experience, we are familiar with every shutter system on the market today and can quickly and affordably get your shutters functioning optimally. Our team understands how stressful it is before, during and after a hurricane which is why we are here to help you take care of your hurricane shutter repair needs in Estero prior to a storm.
How often Should I Have my Hurricane Shutters Checked to Ensure they are Working?
It is important to have your shutters checked annually to ensure they are in working order, even if they didn't get used.  You count on your shutters to work at a moment's notice, nonfunctioning shutters could be dangerous.  With regular maintenance your shutters will continue to operate at peak performance.  Proper and regular preventative maintenance will ensure they continue to operate correctly. Don't ignore preventative maintenance!
Hurricane Shutter Repair in Estero – All Makes and Models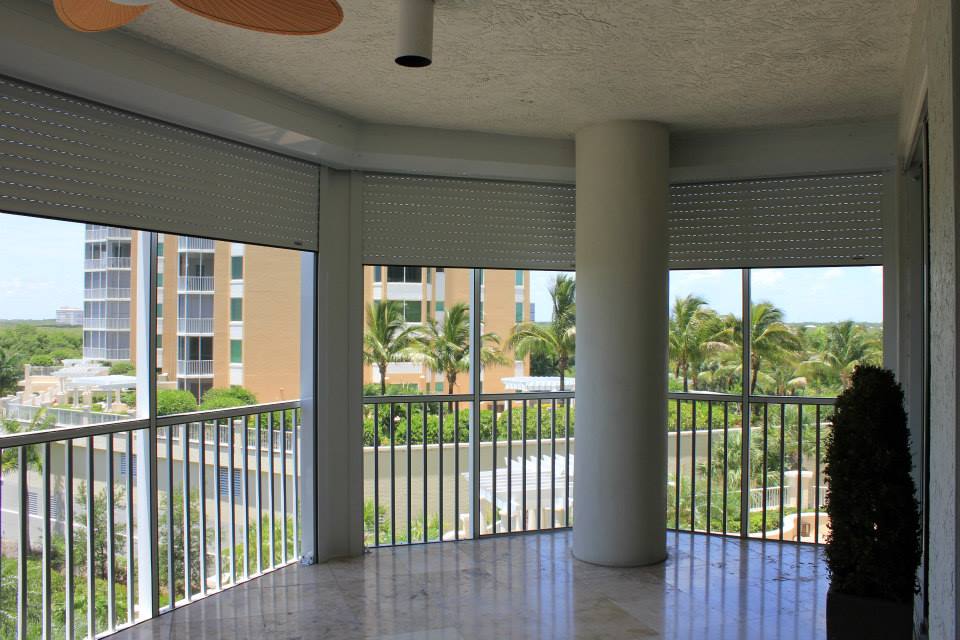 What can I do to Ensure my Shutters Continue to Work Properly?
It is important to have your shutters checked annually to ensure they are in working order, even if they did not get used. Some shutter systems require more maintenance than others, as follows:
Roll Down Shutters
Keep the tracks clean. Remove leaves and debris that can accumulate in the track
Visually inspect them a couple of times a year
Clean the shutters using a mild detergent and water.
Every 6 months open and close the shutters
Accordion Shutters
Inspect them yourself
Clean the tracks – remove dirt, salt, leaves or any foreign object
Wash the panels – using soap & water clean the panels in both the closed & open positions
Lubricate the tracks and thumbscrews– use silicone spray or shutter wax
If you do not maintain your shutters, they may not work when you need them too. Cleaning, inspecting, and having repairs made are important. Don't make the mistake of forgetting about them until we have another storm headed our way.
Work with the Best for your Hurricane Shutter Repair in Estero
Storm Guard Solutions has been serving Collier and Lee counties for over two generations and understands what it takes to get the job done right the first time. When you choose Storm Guard Solutions you can rest assured knowing that you are not only receiving the best service and workmanship for your investment, but you are also receiving the highest quality products in the industry. Locally owned and operated, we employ a team of highly skilled technicians that possess the specific knowledge for any repair job. We are committed to delivering the highest quality products and the best customer service in the industry. Don't wait until the next storm comes along, take care of "what matters most" and contact Storm Guard Solutions today
If you are looking for a reliable, honest, and experienced company to protect your home from dangerous storms this hurricane season, contact Tony at Storm Guard Solutions LLC- 571-3120. 
Storm Guard Solutions Proudly Services
Naples,

North Naples

, Marco Island
,

Bonita Springs

,

Golden Gate

,

Immokalee

,

Ava Maria

,

Estero

, Corkscrew Shores