Do you Need Hurricane Shutters?
For the best hurricane shutters in Collier and Lee counties, contact Storm Guard Solutions.  We specialize in providing leading edge hurricane protection to homeowners and businesses throughout Southwest Florida. With over 2 decades of experience, we have the skill, knowledge and qualified team to ensure you are protected in the event of a storm or hurricane.  Whether you are a homeowner, business owner, property manager or contractor we can fill any shutter need, large or small.  From accordion shutters to storm screens, we install only the highest quality shutter system on your property. Family owned and locally operated in Naples; we are the provider of choice when it comes to hurricane protection. If you need hurricane shutters don't delay.  Contact us today.
How Much Do Hurricane Shutters Cost?
The cost of hurricane shutters depends on the type of shutter system you install and the size of your home or business.  From temporary shutters such as storm panels, to roll down permanent shutters, it is up to you to decide which system meets your budget and aesthetic and functional needs.  Each shutter system offers protection with specific benefits and drawbacks.  There is no simple answer regarding the cost of hurricane shutters.  Our goal is to keep your cost low and your protection level high. With that in mind, we will meet with you at your home or business, review your goals and objectives, and provide custom solutions and free estimates based on your property and individual protection needs
Living in Southwest Florida it's not a Question of IF we will be Subjected to Intense Storms or Hurricanes. It's a Question of WHEN.
Are Hurricane Shutters Worth the Investment?
Yes, they are!  Here in Southwest Florida, tropical storms and hurricanes are a real threat.  The best protection against the strong winds and rains that accompany extreme weather is hurricane shutters.  Hurricane shutters protect homes, retirement communities, apartments, businesses, buildings and more from the realities of hurricane season.  They also protect people from injury when strong winds and flying debris fly into an unprotected window.  Hurricane shutters provide:
Safer Structures During a storm
Quick Deployment before a storm
An increase in the value of your property
Peace of mind during a storm
Layer of security. Openings are not accessible to burglars after a storm has passed
Protect Your Family and Property with Hurricane Shutters from Storm Guard Solutions
When it comes to installing high quality hurricane protection, no one does it as well as Storm Guard Solutions.  Since 2004, we have worked with thousands of customers providing expert installation, service and maintenance.  When you choose Storm Guard Solutions, you can feel confident that you are not only receiving the best service in the industry, but you are also receiving the best quality products for your investment.  Our products and services include:
Stay Safe During the Next Storm with Hurricane Shutters from Storm Guard Solutions 
Our team of experts have over 2 decades of experience providing quality hurricane protection in Naples and Southwest Florida. Our commitment is to provide our clients with superior products at fair prices. All our products are manufactured in our newly expanded and updated facility under strict quality control guidelines. Our shutters are custom built and meet all the standards of ASTM E 1866, E 1996, International Residential Code as well as State building codes. All shutters are tested to withstand a Category 5 hurricane. Our hurricane solutions and simple and affordable! Contact us today to ensure your families safety tomorrow.
Storm Guard Solutions installed our hurricane shutters. They are an honest, reliable and trustworthy company. The owner will make sure the job is done right!! We would definitely recommended them to anyone who plans on installing shutters.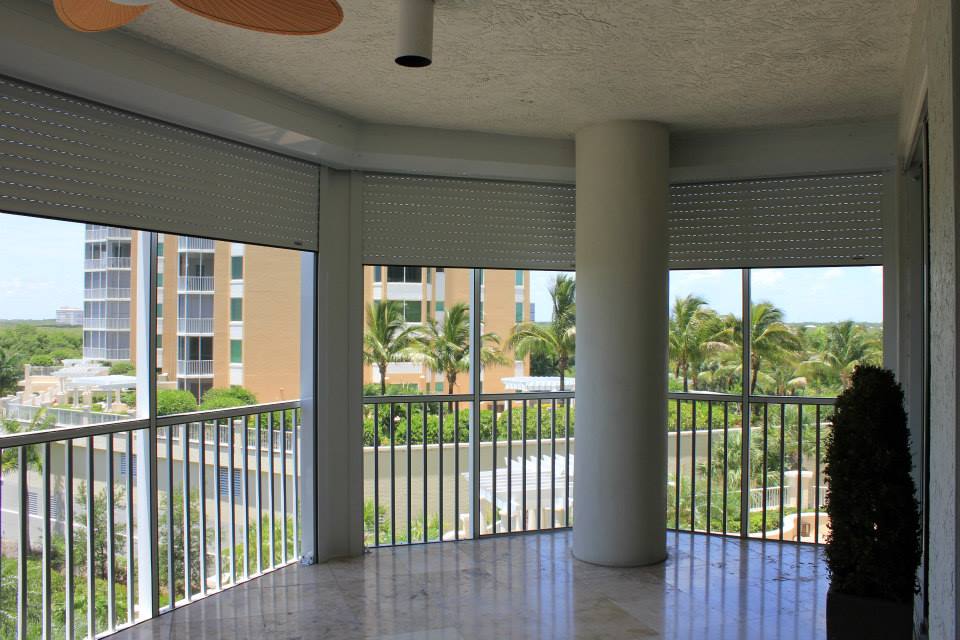 Storm Guard Solutions Proudly Services